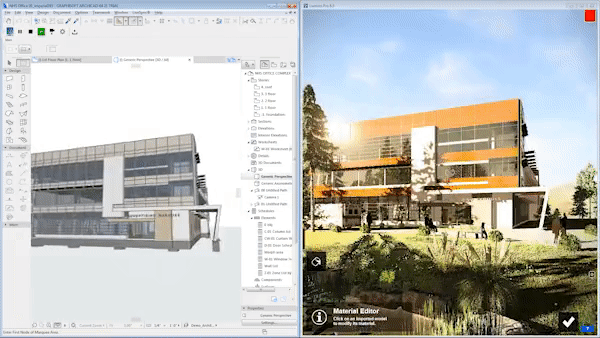 1. Install the Lumion plug-in for ArchiCAD
1.1: Please follow the instructions below to download and install the plug-in for your version of Lumion and ArchiCAD:
Download Link: Download Lumion LiveSync for ArchiCAD
2. Method A: LiveSync export
2.1: With Lumion LiveSync for ArchiCAD and Lumion 8.5 and newer, you can immediately set up a live, real-time visualization of your ArchiCAD 21 or 22 model:

If you are using an older version of Lumion, please see Method B below.
3. Method B: Lumion .DAE file export
3.1: Export a .DAE file from ArchiCAD as a Lumion Collada file (.DAE) using the Lumion LiveSync for ArchiCAD Export button in the palette:

3.2: Alternatively, use the Export as COLLADA file from the LiveSync menu: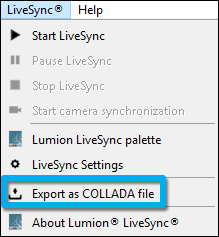 3.3: If you are using an older version of the plug-in for ArchiCAD, please use the following command:
File -> Save as... -> Lumion Collada file (.DAE)
Make sure that you select the correct Lumion Collada file (.DAE) option: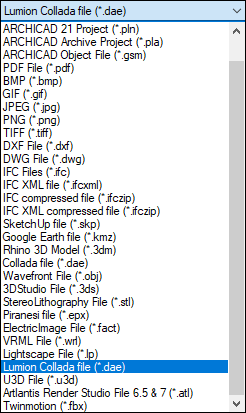 3.4: Import the .DAE file in Lumion 5.7.2 or newer.
4. Tips & Troubleshooting
4.1: Why can't you see the model after importing and placing it in your Scene?
The Insertion Point for the Imported Model in Lumion corresponds to the so-called Project Origin in ArchiCAD, i.e. 0,0,0.
If a model is far away in Lumion, you need to move the model closer to the Project Origin, i.e. 0,0,0 in ArchiCAD, before exporting it to Lumion.
There's more information about the Project Origin, the User Origin and the Edit Origin in ArchiCAD on this page:
External Webpage: ArchiCAD Help Center: Far From Origin – Troubleshooting Guide
4.2: Why can't you assign a Lumion material to individual surfaces?
Lumion will always combine surfaces that use the same material in ArchiCAD. If you want to assign a Lumion material to a specific surface, you must assign a unique material to that surface in ArchiCAD before importing the model.
4.3: What do you do if your Lumion Materials go missing after re-importing a model?
4.4: How do you replace imported objects with Library objects?
See also:
Knowledge Base: How does LiveSync 3 work with existing imported models in Lumion Scenes?